What Is Email Hosting?
Email remains central to modern communications. Almost everybody who is online has an email address. Practically everybody knows how to send an email, with more than 260 billion emails sent every day.

Having an email address with a free service such as Gmail or iCloud is a low-hassle way of staying in touch with personal contacts. But when it comes to making your business stand out, these mass-market options just don't look professional enough.

Beyond digital communications, verified email addresses are also used to sign up for accounts on websites and apps. Many professional services require an email that is under a business name and not on a free email platform.

So you need email addresses with your own business reflected in the name, not some other company. You need email hosting with your own domain. But how is that different from your web domain?
Differences Between Domain, Email & Web Hosting
When you launch a business with an online presence, one of your most important decisions is your Internet address: your .com name, or your .de, .co.uk, .info, etc. This is called the domain. You buy domains through companies like Namecheap in their capacity as registrars. Registrars are in charge of making sure the names are unique and that each name points to the right servers.

You also need a place to store your site. This is your web hosting. Namecheap also can be your web host. In short, the host has the servers and bandwidth needed to allow many visitors to come to the large number of sites they store.

For your website to be accessible, you still have to make sure that your registrar has your domain pointing to your web hosting. It's easiest if the same company is taking care of both your hosting and domain.

In order to start setting up email addresses at your domain, you need email hosting. An email host runs servers that send, receive, and store your email. It allows you to create user addresses as needed. As you did for your web hosting, you need to make sure your registrar is pointing your domain to the right email servers.
What Is the Best Email Hosting for My Domain?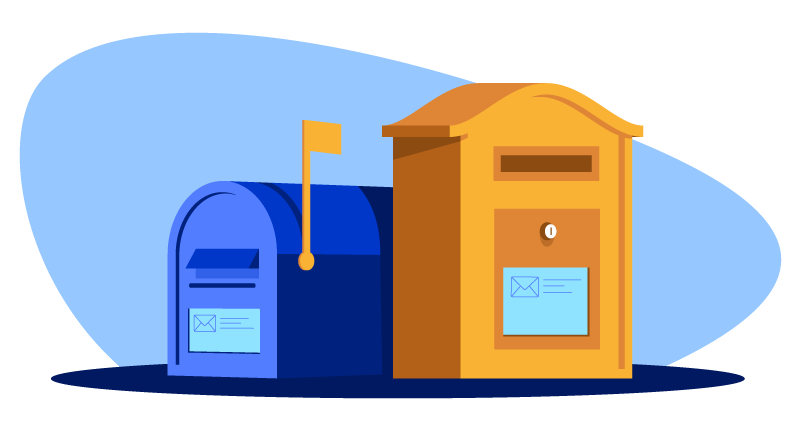 Compared to free, ad-supported email services, premium paid email gives you better storage space, higher levels of privacy and security, and other helpful features. While there are several recognizable products from trusted brands, finding the best paid email service for you requires a little research. Here we compare Namecheap Private Email vs. Google Workspace vs. Outlook Office 365.
Price Comparison
Private Email

by Namecheap

1 Year Subscription

$14.88/yr

Google Workspace

by Google

1 Year Subscription

$72.00/yr

Office 365

by Microsoft

1 Year Subscription

$69.99/yr

Additional Mailboxes

$8.88/yr
$72.00/yr
$69.99/yr

File Storage Included

5 GB
30 GB
1 TB

Free Trial Period

60 days
1 to 14 days
Not Available
24/7 Customer Support
for All Users
*The details in the comparison table were correct as of November 2021, and the information for each competitor may not include certain features, functionalities or quantities and is subject to change.
If you've only ever used a free webmail service, the price of different premium email products may be the first thing you decide to compare. Upgrading to a paid email provider means no more ads, and you get a host of other benefits, including the ability to use your own domain name in your email address.

Email hosting is offered at a variety of price points, and if you only need one email address, many of them seem affordable. However, keep in mind that you may want to keep the same address for many years, even decades, so getting the best value for your needs is essential. What seems cheap today could amount to hundreds of dollars in just a few short years.

Google Workspace, a popular paid email service, charges $72.00 per year for its Basic edition when you choose the annual billing option. If you want to pay for Google Workspace on a month-to-month basis, the fee is $6.00 per month. Outlook Office 365 Personal is $69.99 per year with an annual payment, or $6.99 if you do a recurring payment each month.

Namecheap Private Email is substantially lower in price, at just $14.88 per year. This means for one-sixth of the cost of Google Workspace, you can have a secure webmail service that uses your own personal domain. Private Email can also be accessed through any web browser, on a mobile device, or through your favorite apps — such as Thunderbird or even Microsoft Outlook.
Additional Mailboxes
For growing businesses, it's very likely that you will need more than one mailbox. Even if you are your company's only employee, you may want to have separate inboxes for customer service inquiries or sales requests — and have them all separate from your personal email. If you have many employees, of course, everyone will need their own separate mailbox to avoid massive confusion.

With the Namecheap Private Email Starter Plan, additional mailboxes are only $8.88 each, which is a 40% discount on the price of your first mailbox. With both Google Workspace and Office 365, you must pay for another full-priced mailbox. To break that math down further, with the Starter Plan from Namecheap, 5 email inboxes would cost you $50.40 per year. With Office 365, you're looking at $349.95 per year. Now think about the cost over 5 years — that's a substantial difference.
Free Trial
When subscribing to any new software as a service (SaaS) product, being able to test drive the user experience is essential. There is no other way to know, for sure, that the program is right for you or your team. Outlook Office 365 does not include a full-featured free trial.

Google offers a 14-day free trial with Google Workspace, which is a decent enough amount of time to test the initial product. Namecheap, however, offers an impressive 60-day free trial for each of their Private Email plans. Two months gives you time to try out each and every feature and make sure you are picking the best-priced email service.
Customer Support
Problems with email hosting are rare since all of these providers use top-of-the-line technology. But what about situations where you and your team have questions about setting up new features? Or what if your business has specific needs to be determined before choosing a paid email service?

One big issue with Office 365 is that you cannot get any kind of support until after you've purchased a plan. Only registered users may contact the Outlook support team, so you cannot get answers from a real human being until after you buy. Google Workspace support can be frustrating because only the account administrator may contact customer support.

Namecheap offers 24/7 support to all users, before and after you subscribe. From pre-purchase pricing questions to setting up new mailboxes to scaling your package as your business grows — the Namecheap Support Team is happy to answer questions from any user at your company.
Reviews of Professional Email from Domain Sellers
Namecheap
GoDaddy
Bluehost
Entry-Level Plan
Starter
Email Essentials
Email Essentials
Underlying Server Software
Open XChange
Microsoft Cloud
Microsoft Cloud
First Mailbox
$1.24/month
$5.99/month per user
$4.99/month per user,
a web hosting plan is required in addition
Additional Users
$0.74/month
$5.99/month
$4.99/month
Storage Included
7 GB (5 GB email + 2 GB files)
10 GB
15 GB
*The details in the comparison table were correct as of November 2021, and the information for each competitor may not include certain features, functionalities or quantities and is subject to change.
In the early days of the web, companies that sold access to servers for people to host their sites were run by the computer enthusiasts who had started them. The technologies they ran were born in the research departments where the basic building blocks of the Internet were developed.

These included the Apache web server, the Sendmail and Fetchmail programs for routing email, or the FTP daemon for sending files back and forth. These were all open-source, which among other things meant that they were free to use. So the hosts didn't have to charge a license fee to their customers.

As more and more commercial activity moved online, the technologists driving the development of open-source software were slow to give a growing crowd of business users the features that they wanted. This created openings for commercial software vendors, whose products were explicitly business-friendly.

Seeing the potential volume this represented, companies like Microsoft started making hosting providers offers that were hard to refuse. This meant good deals on licenses for their cloud-based services for professional communications.

The consequence is that many large hosting companies that would have run their email operations on open-source server software in the past switched over to reselling Microsoft email. GoDaddy and Bluehost are two perfect examples of this trend.

Namecheap, on the other hand, recognized that the open-source movement wasn't done spawning excellent email innovations — ones that learned to integrate developing user needs, and produced software rivaling the best commercial products. This commitment to the Open-XChange platform also makes it possible to keep prices much lower than the Microsoft resellers.
Email Services from Website Builders – Pros and Cons
Email is so essential to any online presence that it is typically part of every website builder's offerings too. These are companies like WiX, Squarespace, and Weebly that provide easy tools for registering domains and creating websites. Their all-in-one approach means they will gladly sell you an email plan to go with your domain.

The website builders' philosophy is 'simplicity', and they decided to apply this to their own work when it came to their choice of email products to offer. Meaning that rather than maintaining their own hosting, they chose to resell Google Workspace mailboxes from Google.

These are priced around $6.00/month per user. They support great features such as messaging, video conferencing with Hangouts, and collaborative productivity apps with Docs, Sheets, and Slides.

But the catch is that these resellers require you to sign up for one of their premium web hosting plans in addition to the email plan. This confines you to their approved design templates and their restricted e-commerce functionality. And if you want to get rid of their 'per-transaction fees' of around 3%, you have to sign up for one of their even more expensive web store plans.

In addition, whenever you have your data processed by Google, you have to trust them to do the right thing. When you are on a paying plan, they won't show you any advertising within the products you are paying for.

One of the most common benefits of a paid plan is the removal of all advertising, saving the user from having to make an effort to ignore or delete unwanted ads. However, they are still seeking to maximize the profitability of their ad-supported model. Therefore, you can never be sure that they don't feed your data into the algorithms that optimize ad placement for others.

With a Google plan, your data is not guaranteed to be absolutely private. At Namecheap, that is not how our business model works. Our competitive advantage is the guarantee that you control your data, plain and simple. Your privacy interests align with your business goals.
Email as a Service vs Inclusive Hosting Packages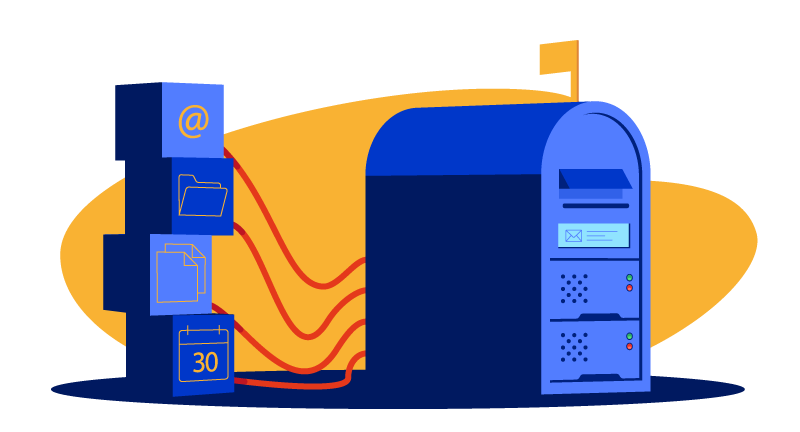 If you have had a regular web host before, you will know that they too usually offer some level of email service as part of their standard packages. These allow you to read your email in the service's webmail interface in your Firefox or Chrome browser, or to configure a mail program such as Outlook, Mail.app or Thunderbird to access your account.

Every Shared Hosting plan at Namecheap also comes with an email service like this. It's called 'cPanel email' at Namecheap, after the cPanel server-management interface where you create accounts, set up filters and forwarding, and so on.

Email services tied to web hosting plans support mail settings and configuration options that go beyond what free, ad-supported service offers. The convenience of having everything in one place can also be attractive.

Yet they have their shortcomings, especially when it comes to enabling teamwork. Each email address sits in its own silo. Users cannot share contacts in a single list. For scheduling meetings, users have to opt for a separate third-party calendar solution.

This is where Namecheap Private Email really shines. It features Open XChange's powerful integrated groupware solution right out of the box. This puts collaboration at the heart of the email experience, with exchange accounts that allow you to synchronize email, tasks, calendars, and files.

The following Private Email benefits work across all supported devices and email clients:
Public shared folders
Setting and controlling tasks
Creating and managing work schedules
Monitoring the availability of colleagues for meetings and discussions
Sharing data
Controlling user access to specific files and resources
Creating, editing, and sharing of documents, tables, and presentations (Ultimate plans)
With its rich collaboration tools and friendly pricing structure, Namecheap Private Email is a great choice for businesses, as well as for nonprofits looking to optimize teamwork across a wide array of email clients and mobile devices.
Simple Guide to Setting up Email Hosting
You have weighed all the arguments and concluded that Namecheap Private Email is the right solution for you. Or at least that it is worth getting the 60-day free trial and testing all the features. Here are some pointers that will have you up and running in no time.

First, the MX records in your Domain Name System (DNS) need to be updated with the names of Namecheap's mail servers. If you decided to secure both your domain and email hosting package with Namecheap, the procedure is simple. It is done through your Account settings .

If you need to point a domain from another registrar to the Namecheap email infrastructure, please see our detailed DNS instructions.

The next step is to create your first mailbox. This is also done in your Account dashboard. You will be allowed to create as many mailboxes as you have left on your plan. If you reach the limit, the option to buy more will conveniently appear right there.

The same interface allows you to add aliases for your mailbox. These are alternative email addresses at the same domain that will get mail delivered to your main inbox. So if you created your mailbox under jenstaub@my-site.info, and you add an alias called resumes, then any email sent to resumes@my-site.info will be delivered to your jenstaub mailbox.

Once you have created your first mailbox, it is time to check your email for the first time. You can do this through webmail, through a desktop email client or on your mobile device.

You will find a link to your Private Email's webmail interface in your Account settings dashboard. Private Email's homepage https://privateemail.com also has a link for logging in to the webmail interface.

The ins and outs of the Private Email's webmail interface can be explored once you are logged in, but if you need help, or are looking for something specific, go to the Namecheap Private Email Webmail Features guide.

If you've never set up email on your desktop or on your phone, or if it's been a while, it can be daunting. That's why Namecheap has easy to use step-by-step guides, including how to transfer your email from an existing account.
Conclusion
Some decisions are harder to undo than others. If you miss the mark when choosing your domain, it may take a while to see that it's not working for you. Switching to a new one will be costly in all kinds of ways.

Giving Private Email from Namecheap a try is not that kind of decision. Redirecting your domain and taking up where you left off can be a matter of half an hour, and most of that is the time it takes for DNS changes to propagate. With a 60-day free trial, the risk is reduced even further.

With its competitive pricing for one mailbox, you might step in at the Starter tier at $14.88/year, which already includes spam protection, 2-factor authentication, and 10 aliases.

As your organization grows, it is easy to upgrade to Pro at $41.88/year for three accounts, or Ultimate at $71.88/year for five accounts. In addition to unlimited aliases, 15 GB of email storage, and 30 GB of file storage, Ultimate also gives your team access to a collaborative suite for online creation of documents, spreadsheets, and presentations.

If you are ready for a truly private email service, you are ready for Private Email from Namecheap.