What Is Managed WordPress Hosting?
8 min read
There are plenty of Content Management Systems (CMS) out there, but WordPress continues to dominate the field. Conservative estimates suggest that at least 30% of all global websites are powered by WordPress.

So, why do people prefer WordPress? Because it's more than just a CMS; it's now evolved into a platform where you can publish practically anything you like. From a simple blog to a complex media site, an e-commerce shop to an extensive portfolio, the possibilities are endless with WordPress.

While you're likely already familiar with WordPress, managed WordPress hosting might be a new concept. Managed WordPress hosting simply means that all technical aspects of running WordPress are taken care of (ahem, managed) by the hosting provider.

Think of managed WordPress hosting like a 5-star hotel's concierge service. Instead of enjoying tiny chocolates on your pillow or last-minute dinner reservations at the swankiest spot in town, you'll enjoy a top-class WordPress experience. Thanks to premium support from the experts, high security and speed, updates and backups and not to mention, 99.9% uptime, you're sitting pretty for a super smooth stay.

This dependability and peace of mind allows you to put the focus on running your business, whatever that may be, without having to worry about managing your website.
How Managed WordPress Differs from Shared Hosting
As with any software, WordPress first needs to be installed. How? With the hosting option of your choice. While some might opt for a website builder that offers a simple drag-and-drop interface, others might go for Shared Hosting. Both require self-installation, however, and the steps to install can be quite complicated, especially for beginners.

Traditionally, WordPress was installed by downloading the software from WordPress, re-uploading to your web host of choice, and undergoing a series of technical steps along the way. Worst-case scenario, this would take several hours and even in the best-case scenarios for seasoned web professionals, this would become a time-consuming task. For some Shared Hosting options, including Namecheap's Shared Hosting, the installation process has been simplified with just one click.

Managed web hosting for WordPress differs from traditional installations in that it handles the entire installation for you. Managed WordPress hosting also provides a user-friendly dashboard that allows you to update, manage, and backup all of your future installations. This means that you don't have to figure out how to use a control panel (cPanel or Plesk) to manage your website. (As a friendly reminder, cPanel is a dashboard that is used to control your hosting environment.)

With most managed WordPress hosting options out there, the servers are configured and optimized for WordPress websites. And, thanks to cloud server technology, your website can independently handle those extra spikes in traffic. In other words? Your website is far less likely to experience slowdowns.

Shared Hosting, although flexible in theory, can suffer from server slowdowns if another website suddenly gets a lot of traffic. This constraint is why most Shared Hosting plans have disk quotas and bandwidth limits already in place. However, with Shared Hosting, there is direct access to cPanel and works well if you're running more than just WordPress or if you plan to switch to a different software platform in the future.

While some Shared Hosting providers require you to install everything yourself, Namecheap's Stellar Hosting features the Softaculous app in cPanel that handles the entire WordPress installation for you. Not too shabby, right?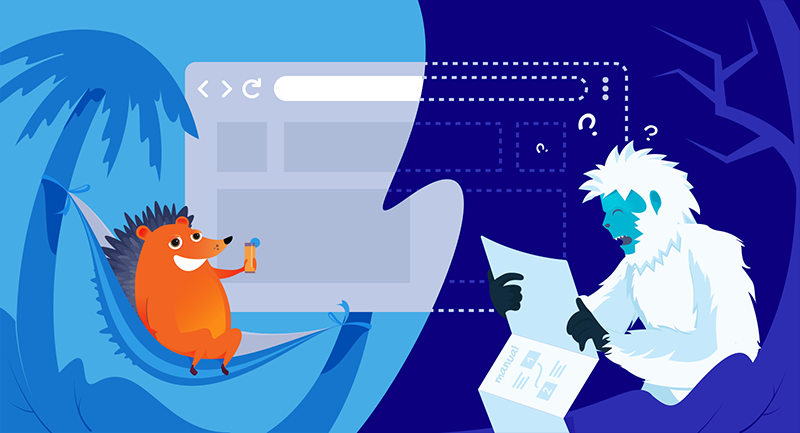 Managed WordPress Hosting v. Other Site Builders
To stay competitive with the vast array of drag-and-drop website builders now available to users, managed WordPress hosting came about to meet this growing demand, head-on. Killing two birds with one stone, their offering was simple and enticing: we'll take care of the WordPress technicalities so you can build the website you intended.

And while website builders such as Wix or Squarespace might claim speed as their USP (meaning your website gets up and running fast), there are many limitations regarding their functionality, design options, scalability, and expert support. Think of how they operate as a walled garden, making it very difficult to move your website and its contents to a different product or platform in future, if you choose to do so.

As luck would have it, the setup for managed WordPress is just as fast. And, unlike Wix and Squarespace's customization limits, WordPress offers thousands of themes that you can easily customize yourself. Many of these themes and plugins are free through WordPress.org while third-party developers tend to offer many more premium options.

It's absolutely worth investing your time into familiarizing yourself with WordPress – especially if you expect more out of your website, i.e. e-commerce or mailing lists. But by using managed WordPress, such as Namecheap's EasyWP, you aren't also spending your time learning how hosting works or solving the headaches that often come from it. Instead, you're using the time to build, market, grow, and evolve your web presence.

As a free, open-source software, WordPress is known for constantly undergoing updates, by volunteers from all over the world. Always evolving to meet new design and functionality requirements, WordPress paves the way for mobile-friendly design, social media connectivity, and more.

Many Benefits, Few Limitations
Sure, it may take some time to acclimate to WordPress, but once you do, the benefits far outweigh any of the limitations. Take a look at what you can expect from managed WordPress hosting:

Super speed – managed WordPress hosting servers are WordPress-configured and only run on WordPress websites.
Total security – featuring the tightest security that scans for malware and hackers, you've got added peace of mind.
Expert support – unlike other web hosts, managed WordPress hosting has an on-site staff of experts who advise you on anything and everything related to your WordPress account.
Cloud technology – the best WordPress hosting providers rely on leading cloud technology to offer unparalleled availability and flexibility, which can handle all sorts of traffic spikes.
Daily backups – keep the 24/7 content you create, safe and sound.
Automatic updates – did you forget to update? It's already been done.
No more downtime – regardless of how much traffic your website gets, it won't slow down.
Improved user experience – user-friendly dashboards, interfaces, and control panels are especially ideal for those with multiple websites.
No backend headaches – with managed WordPress hosting, forget about any backend clutter and/or coding because it's all handled for you.
OK, so you may be thinking, are there any downsides to managed WordPress hosting? Truth be told, not very many. In some cases the price is higher compared to Shared Hosting, but think of it this way: you won't have to pay a salary to someone who will serve as your system administrator. But, if you prefer to be in total control regarding the technical aspects of your website, you may decide managed WordPress hosting isn't necessarily right for you.
Which Managed WordPress Hosting Plan Is Right for Me?
Managed WordPress hosting is ideal for small business owners, startups, and solopreneurs. Because when you choose a managed WordPress hosting provider, you're suddenly able to offload tasks that a small team was most likely handling in-house. This redistribution allows you and your team to focus instead on more important things, i.e. growing your business and creating awesome content.

A managed WordPress host will also offer higher security and performance levels since they optimize your WordPress website from a server level. This means you and/or your IT team won't need to stress if, let's say, there's a sudden traffic spike due to a recent product promotion. With managed WordPress hosting, all that backend optimization is gloriously handled for you.

If you're currently looking for the affordable managed WordPress hosting option, look no further than Namecheap's very own cloud hosting platform, EasyWP. Delivering outstanding value to its users, EasyWP offers a super-quick installation time (30 seconds, to be exact), reliability, performance, the aforementioned cloud technology, and more. While these attractive features are often associated with expensive managed WordPress hosting, EasyWP's Starter Plan begins at just $3.88 per month, with the first month only $1.00.

True managed WordPress hosting makes the hosting side of things almost entirely invisible. Your WordPress website scales as the number of visitors grows. Thanks to the underlying cloud technology platform, it won't go down, either. Forget worrying about PHP versions or spending a lot of time on extensive technical training. Time is money and managed WordPress inherently understands this by eliminating the middleman (aka the backend of hosting).

Ultimately, whatever option you decide to go with, you definitely won't be disappointed with managed WordPress hosting.
Was this article helpful?
12