Why Create a Logo for Your Business?
Whether you're looking to make extra money from your hobby, an entrepreneur with big ideas, or a scaling company trying to keep up with the big fish — your logo is a crucial investment.
The human mind processes images 60,000 times faster than words. So before you lose people's wandering attention, you have a great opportunity to make your mark.
These are the 2 main reasons why logos should never be underestimated:
Stand Out from the Crowd
The online space gets noisier by the minute. Because digital technology has turned the world into an international playing field, you're typically competing with dozens if not hundreds of competitors offering something similar to your product or service.
People type a keyword and get pages of results. When they click through to your website, you basically have about 3 seconds to make an impact. A logo is one of the strongest ways to instantly create a lasting impression. Done right, it can tell a potential customer what your brand stands for and why you're a cut above the rest.
In the real world, it's a similar situation. Modern life is fast paced, so people typically don't have much time to leisurely browse around. And they also often have their eyes glued to their phones even as they walk down a busy street. A logo is something that can grab their attention so they step in your store or remember you for next time.
Touchable branding like business cards, t-shirts, pens etc. is often underestimated in the digital world, but these are things people take home with them. They have the power to make your brand a part of people's lives.
Logos Build Brand Loyalty
Seen repeatedly, a good logo creates brand trust. It tells people your company is established in the world, not just some fly-by-night popup or passing trend. Just look at some of the major brands like Apple, Coca-Cola or Nike. Their logos are unmistakably recognised in any country, with a strong yet simple design that immediately conjures up a positive association.
This is why you shouldn't create a radically new logo unless you do a total rebrand. See it as a long term investment.
Studies show that brand consistency can increase your revenue by up to 23%. A great logo — strategically positioned across your website, social media platforms, emails, paper brochures, packaging, stationery, business cards, uniforms, and office — is effective at building brand loyalty.
Why Create a Logo for Yourself?
The same reasons we've listed for businesses apply to creating a personal logo. It's a great way to become instantly recognisable in the noisy online world. With social media increasingly playing an important part in people's lives, combined with our increasingly short attention spans from getting bombarded with so much online content, a logo identifies you at a single glance.
Logos are also a great way to organize your online presence e.g. active as a professional, parent, foodie, pet fan, etc. On top of social media and email, think about all the many places you make your mark in the digital world: gaming, forums, page comments, reviews and more. Logos can give you a clear, impactful persona in each area.
Key 2020 Logo Design Tips
Most medium to large businesses already have a logo. So the question is: why create a new logo? Some branding gurus say that companies should refresh their design every five to ten years. While other companies have an iconic design that stands the test of time.
There's no right answer, but it's always a good idea to freshen up your brand periodically, even with some minor tweaks, to keep up with the times. For example, what looked cutting-edge in the 90s (let's not even talk about 80s styles) is in most cases going to look very dated in 2020.
The trick is to appeal to new generations with a current look, without alienating older audiences who are familiar with your existing logo. Since it's a brand new decade, now's a great time for a touch up.
These are the key factors that will guarantee your logo stands out in 2020 for all the right reasons:
Personality — this is always the first thing to review. Your company may have evolved over the past few years. Ask yourself if your business still stands for the same things and still targets the same audience. Maybe you started out as a fun, quirky brand for 20-somethings, but you've broadened your reach to include a lucrative, more stylish audience in their 40s.
Color — this can make or break your logo's impact. Read this comprehensive guide on How to Create Awesome Branding Colors.
Font — some fonts are evergreen, because they're crisp and clean, easy for the eye to read. A prime example is sans serif fonts (without squiggly bits). But in some cases they could be too stark for your brand personality. Other fonts, like 'bubble', can trend for a short while but then become very unfashionable. Go for a font that has a good balance that suits the feel of your brand, but isn't too over the top. Another tip is that multiple fonts are not a good idea, they tend to make a logo look fuzzy and confused.
Simplicity — an ongoing style that design pro's agree will only get stronger in 2020 is minimalism. Think Apple, how stylishly sleek their products and branding are. Whether it's because life is getting increasingly complex, or because the eyes naturally find a profusion of colors and lines tiring, or the future has a sleekly robotic Sci-Fi feel, the fact can no longer be disputed: simple design works.
Why Use a Logo Maker?
Professional design firms can charge between $4,000 to $15,000 for a logo. Even if you have that kind of budget, in 2020 you no longer need this expense. With modern technology, you can now create your own stylish logo in minutes. Later, if you choose to use a designer, it will be far less expensive to make modifications than to create a new concept from scratch.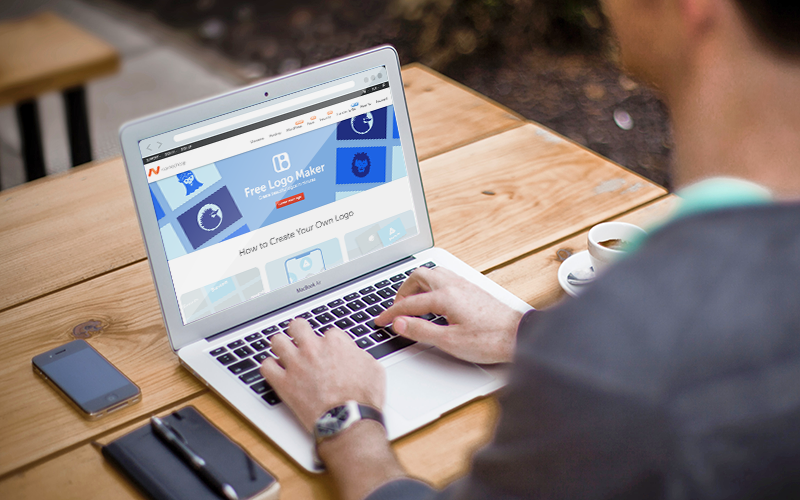 Using a simplified app, you simply take your pick from a range of popular templates, then make it your own by choosing the font, layout and colors to suit your brand personality.
Logo Maker lets you do all of this in a few clicks, and it's completely free. No tie-down to other products, and no registration needed.
Takeaway
Businesses have long known that a great logo means everything when it comes to being instantly recognizable and trusted over the long term. In a global playing field, strong brand identity is more important than ever.
And in modern times, with everyone spending so much time online, personal logos are really useful too. Not only for all of the same reasons as for business brands, but also because they're a great way to organize your different digital profiles.
With this in mind, what could be better than a free, streamlined app that lets you create a professional logo in minutes? See for yourself how easy it is.