What is the purpose of a logo?
Your logo is the most visible part of your brand identity, which means that it plays an absolutely essential role in connecting with customers. Learn more about what a logo is and why it's so important to make sure yours represents your brand effectively.
Be identified
The top reason to create a logo is to identify your business. Customers need to know who you are, and just hearing your name isn't enough. The logo acts as a central part of your brand's visual identity, so whether your logo is spotted on an advertisement, a product, or one of your store locations, it's clear from the get-go that it's connected to your brand.
Think of the Nike swoosh or the Target bullseye. Both symbols are instantly recognizable, even without the brand name connected to them. Your logo should become synonymous with your brand and be easy to identify among a slew of competitors.
Create a good first impression
It's not enough to just have any logo. It needs to be stylish and memorable enough to capture your target audience's attention. Whether you use bold colors, dynamic shapes, or a unique typeface, your logo needs to make an impact from the first glance.
Essentially, the customers who see your logo are judging a book by its cover, so it's important to make sure your logo leads to a positive snap judgment. It should be aesthetically pleasing while also sparking their interest.
Communicate brand values
A good logo will convey important information about your brand personality. Do you want your brand to appear upscale, trustworthy, and reliable or fun, youthful, and progressive? The graphic design elements you choose can communicate these details and create connections with potential customers.
Your logo should be used to reinforce your company's core values. When a customer sees it, they should get a sense of what you stand for and what your products and services have to offer.
Promote your products or services
Adding your logo to your marketing materials can help encourage customers to buy your product or service. The logo itself should give customers more confidence in their purchase.
From a business perspective, the mass reproducibility of a logo offers an easy way to mark your promotions with a recognizable identifier. It's easy to add to signs, flyers, product packaging, websites, emails, business cards, and more to quickly create an association with your brand.
Command attention
The human mind processes images 60,000 times faster than words. So before you lose people's wandering attention, you have a great opportunity to make your mark with a high-quality logo design.
Because digital technology has turned the world into an international playing field, you're typically competing with dozens, if not hundreds, of competitors offering something similar to your product or service. If you want to stand out from the crowd, you need an eye-catching logo with a distinctive look.
Develop memorable brand association
Over time, your logo can become synonymous with your offerings. You want customers to instantly think of you whenever they need a certain product or service.
This helps to establish your company as a trusted leader in your industry. As your logo becomes more recognizable, you'll be able to influence buying decisions and develop positive associations with your brand.
Build brand loyalty
As more and more customers actually use your products or services, your logo serves as a way to build brand trust. Just look at some of the major brands like Apple and Coca-Cola. Part of what makes their logos so effective is the fact that these images immediately conjure up a positive association. Customers already know and love the brand, so seeing the logo on their products makes them more likely to make a purchase.
This is why you shouldn't create a radically new logo unless you do a total rebrand. Studies show that brand consistency can increase your revenue by up to 23%. To build brand loyalty effectively, don't tweak your logo unless it's truly necessary.
Who needs a custom logo?
Every business should have their own unique logo. Whether you're looking to make extra money from your hobby, an entrepreneur with big ideas, or scaling your company to keep up with the competition, your logo is a crucial investment.
But it's not just companies that can benefit from a visual representation of what they stand for. The same advantages can be gained in a number of personal applications. Logos are also a great way to organize your online presence as a professional, parent, foodie, pet owner, etc. On top of social media and email, think about all the many places you make your mark in the digital world, like blogs, gaming, forums, page comments, and reviews. as a professional, parent, foodie, pet owner, etc. On top of social media and email, think about all the many places you make your mark in the digital world, like blogs, gaming, forums, page comments, and reviews
Why use a logo maker?
Professional design firms can charge between $4,000 to $15,000 for a logo. Even if you have that kind of budget, in 2022, you no longer need to take on this expense. With modern technology, you can now create your own stylish logo in minutes. Later, if you choose to use a designer, it will be far less expensive to make modifications than to create a new concept from scratch.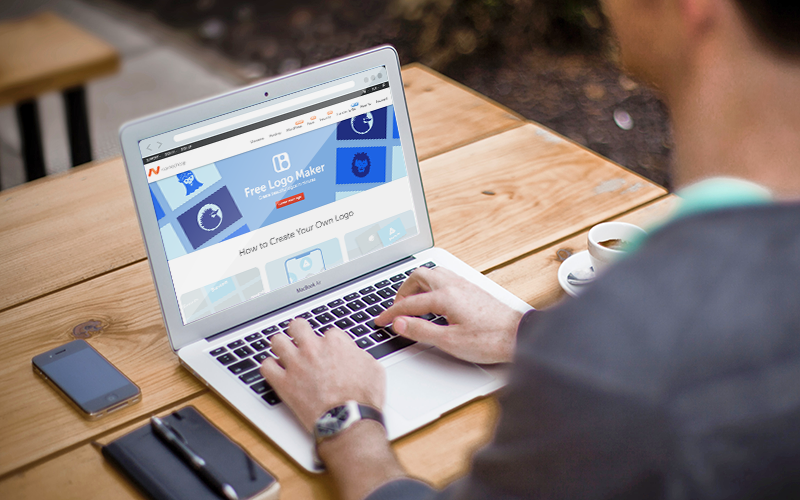 Using a simplified app, you can take your pick from a range of popular templates, then make it your own by choosing the font, layout, and colors that suit your brand personality.
Logo Maker lets you do all of this in a few clicks, and it's completely free. There's no tie-down to other products and no registration needed.
Takeaway
Businesses have long known that what makes logos important is the ability to be instantly recognizable and trusted over the long term. In a global playing field, strong brand identity is more important than ever.
And in modern times, with everyone spending so much time online, personal logos are really useful as well. Not only for all of the same reasons as for business brands, but also because they're a great way to organize your different digital profiles.
With this in mind, what could be better than a free, streamlined app that lets you create a professional logo in minutes? See for yourself how easy it is.